Bio/Press
Biography
Mike is a Juno-nominated Franco-Ontarian solo artist, has released 4 acclaimed albums of Canadian history -inspired songs, been described as being "rabble-rousing and Pythonesque" and "essential listening" by the Globe & Mail, created his own one-hour national CBC Radio Labour Day special (with Age of Persuasion's Mike Tennant), toured as a swing member of The Arrogant Worms, sung at The Tomb of the Unknown Soldier in Ottawa for The Vigil Project, performed and MC'd at festivals coast-to-coast, created an ever-growing repertoire for his Canada Needs You School tours, and sailed across the Great Lakes on a working Lake Boat with David Francey, from which the two wrote and recorded their album SEAWAY.  Mike's latest albums feature song-cycles about the War of 1812, and en français, the life of Étienne Brûlé.   In 2012, Mike was awarded The Queen's Diamond Jubilee Medal for his on-going musical explorations of Canadian history.
In 2016, Mike was named as a member of The Ontario Ministry of Health and Long-Term Care's Task Force on Environmental Health
Mike is known to many for his former life in the folk/rock/vaudeville Moxy Früvous, with whom he headlined festival stages all across North America and Europe, sold over ¼ million albums, and once crashed through a stained-glass window at a Buffalo in-store performance.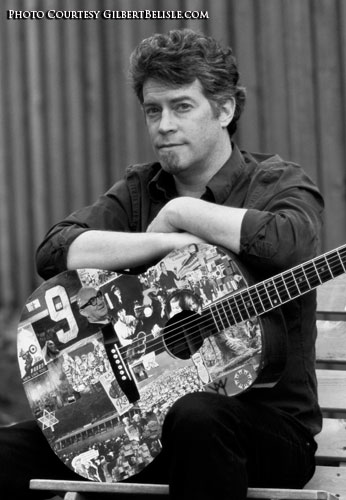 Mike is grateful to the Ontario Arts Council for their assistance in the completion of Canada Needs You volume two. He is also the recipient of an Ontario Arts Council Artist In Education Grant, enabling him to work with Toronto students in the creation of their own songs about the environment, community and identity. Mike would also like to thank The Toronto Arts Council and The Canada Council for the Arts for their support of his new work "Le retour d'Étienne Brûle", and The Department of Canadian Heritage for their support of his 1812 Song Project.  As well as his club and festival appearances, Mike performs in French and English across Ontario in Middle and High Schools, presented by Prologue to the Performing Arts.
Mike and his wife Therese live in Toronto.  He has worked in or visited every region of this incredible country and is dedicated to sharing his enthusiasm for Canada's land and history with people of all ages.
Press
Mike's in the on-line edition of Canadian Geographic – take a look!
Review of Canada Needs You, Volume Two in CAUGHT IN THE CAROUSEL.
(An awesome web-mag!)
Chester Brown's 2006 graphic novel Louis Riel proved that not only could the comic strip medium retell history with a compelling narrative velocity, it could take the biography of a 19th Century Canadian revolutionary and present it in a way that was both informative and entertaining at the same time. Which brings us to Mike Ford's Canada Needs You, Volume II. The follow up to the former Moxy Früvous member's successful first volume of Canadian history set to original songs, the next installment in the series focuses on the many politicians and revolutionaries that populated and changed the Canadian landscape in the last hundred years. Armed with a dazzling musical diversity and a peerless command of Canadian history, Ford is a history professor, folk singer, vaudeville comedian and national bard, digging into Canadian lore and coming out with twelve numbers that tear through the last ten decades faster than Forrest Gump on speed. Ranging from the techno folk of "Tea Party" to the jitterbugging jazz of "Let's Mobilize!" to the psychedelic shimmy of "Expo '67," Ford matches musical styles to the time period that each number addresses. Elsewhere, the stock market crash of 1929 is retold in "Talkin' Ten Lost Years" which sounds like Woody Guthrie by way of Eddie Izzard ("They didn't see it comin'/You can't blame 'em, though/They didn't have text messaging in those days/Depression coming: lol"); "Joey Smallwood," which sounds like Johnny Cash and Ennio Morricone backed by the Sandpipers sings of the political folk hero who led Newfoundland into the Confederation ("He never slept…he had eyes on the back of his head"); "Open For Business" comes across as a swinging confluence of Dylan's "Subterranean Homesick Blues" and R.E.M.'s "It's The End Of The World As We Know It (And I Feel Fine)." Later, the ballad "Maurice Richard" sings compellingly of the hockey great; "The Giants (Clayoquot Trials)" speaks of civil disobedience in the name of anti-logging and the gentle reggae of "I'm Gonna Roam Again" is positively rousing. If any of us had had the good fortune to have Ford as our history teacher and the Canada Needs You series as our textbook, we'd all have gotten A's.
—Alex Green
A 5-star review of Canada Needs You, Volume 2 from Wildy's World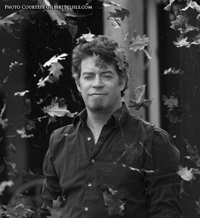 Just about everything I know about Canadian Geography or History I learned from Mike Ford. I've never spoken to him on the subject, but through his songs I have learned about Oak Island, Sir John A, D'Arcy McGhee, The Great Toronto Fire of 1904, Oak Ridges Moraine, The Eastern Gap, and Thanadelthur (among others). In May of 2008, Mike Ford released Canada Needs You, Volume 2, a continuation in his Canadian song cycle.
The thing about Mike Ford is that he tackles subject matter that might not normally draw in listeners, but the music and the delivery are so entertaining that you find yourself grooving along while you learn. Tackling serious ideas and issues with humor and panache has been an earmark of Mike Ford's songwriting since his Moxy Fruvous days, and if anything he has blossomed as a songwriter in his solo releases. Canada Needs You, Volume 2 continues the growth seen on last year's Satellite Hotstove.
Canada Needs You, Volume 2 opens with Creeping Barrage, an urgent ballad about the personal wages of war. The song is particularly prescient in these times because it avoids the political arguments of right or wrong and just points to the costs. This may be one of the best (and most understated) anti-war songs I've heard. Talkin' Ten Lost Years is an entertaining look at the effects of the Great Depression in Canada, told in a speak/sing style reminiscent of Arlo Guthrie. Let's Mobilize is a big-band tune about Canada's involvement in World War 2, and will have you wanting to be up and dancing the jitterbug within the first two bars.
Joey Smallwood is a comic take on the life of the controversial New Foundland politician who led the drive to include New Foundland in the Canadian Union, while Maurice Richard is a loving tribute to the hockey great. Open For Business is the most rocking song on the album and deals with pros and cons of globalization. This song is done in a style reminiscent of a Johnny Cash tune, and is incredibly entertaining. The Giants is an ode to the protestors in the Clayoquot River Basin in 1992, many of whom were arrested and tried for social protests to protect the natural beauty of that region from loggers and corporate interests.
Nestled in amongst the above are tunes such as In Winnipeg, Tea Party, Canada Doesn't Need You, Expo 67!, and I'm Gonna Roam Again — all great tunes for which I have less contextual understanding, but great respect nonetheless.
Mike Ford is an enigma in today's pop music culture. He writes great songs full of thoughtful and sometimes humorous lyrics. The music stands on its own as great art, and you just might learn a little bit along the way. As a special bonus for Moxy Fruvous fans, there is an unheralded mini reunion on Canada Needs You, Volume 2, as all four members appear in some capacity or other. Canada Needs You, Volume 2 gets Wildy's World's highest rating, and qualifies as one of our certified Desert Island Discs!
Rating: 5 Stars (Out of 5)
Review of Canada Needs You, Volume 1 from April's City Parent magazine
Arts & Entertainment
Deanne Fisher
City Parent
AUDIO

Mike Ford: Canada Needs You (Volume One) (MapleMusicRecordings) – If ever there was a CD to accompany a family road trip, this is it. Imagine the Canadian landscape passing by your windows while musical stories of the country's past fill the inside of the car. Mike Ford, a former member of the 1990s folk-pop foursome Moxy Früvous, has been travelling from coast to coast  to coast over the past four years, writing and collecting songs about various characters and events in Canadian history. He's now put a dozen of them onto a CD, the first of two volumes. Lyrically, this is earnest, passionate folk, sung from the heart of a man who truly loves the country but accepts its flaws.
Musically, the style varies to reflect the subject matter – from Celtic, to rock, to garage-punk. Plenty of guest musicians provide each song with a unique element including viola, bagpipes, accordion and a Metis fiddle solo. The stories Ford tells are not all drawn from common history books. "Thanadelthur", for example, tells the story of an early 18th Century Dene teenage girl. "A Woman Works Twice As Hard " is a tribute to the double duty of the immigrant women who worked the land and raised their families. But the pivotal moments in Canadian history are here too – told with humour and occasional goofiness. You have to acknowledge the irony in an aggressive rock song that includes the shouting of "RESIDUAL POWERS!" in reference to Sir John A. Macdonald's vision of strong central government. The musical journey ends with the only traditional song on the CD – a rendition of "I've Been Everywhere", best known as a Stompin' Tom classic.  But Ford's version includes 100 more Canadian towns and cities sung at lightning speed.  If you listen closely, you're bound to hear your own in there.
Canada Needs You, Volume 1 makes CD of The Week at Radio CKUA!
Mike Ford Canada Needs You (Volume One)  As Reviewed by Erica Gayler
"I am Canadian, says the beer company, but is it only as a consumer of geography?"
So appropriate that Mike Ford's latest CD, Canada Needs You (Volume One) begins with a question – the whole purpose of this CD is to make us think. About our country, and about what it took to bring Canada to where it is today. The opening track, "I'm Gonna Roam," quietly but surely sums up what you're about to hear in its own casual folk-hip-hop style, and sets a tone of curiosity about everything that can be learned in this big, wide country we call home.
The album sprung forth from Ford's latest project, Canada In Song, in which he tours schools in Ontario, performing for students and using his music, lyrics, and witty dialogue to spread his love of history across the province. He even gets the kids in on the act – the chorus of "Sir John A (You're OK)" features the entire seventh grade cast of a local school.
Presented in this catchy history lesson are a diverse mix of pop and rock tunes, folk ballads, sea shanties, and even a Joplin-style piano tune that sounds almost like it could have been recorded on a wax cylinder. Every song takes you somewhere new, from Nova Scotia's Oak Island to Lower Canada's 1837 Rebellion, and every issue or event that you'll hear about is from pre-1905 Canada. The songs are presented with a perfect mix of sincerity and humor that will appeal to everyone, not just the kids and teens that they were originally penned for.
Ford says in the liner notes that he believes songs to be "a great window into events, ideas, and emotions of the past," and every song he's written for this album will back him up in his opinion. But when all is said and done – if this album leaves you with a desire to go out and read more about Canadian history? Then Mike Ford will be happy that he's done what he set out to do.
Review of Stars Shone on Toronto, in In Rotation
Toronto singer-songwriter and Moxy Früvous alumnus Mike Ford pays tribute on Stars Shone On Toronto (MapleMusic), an engaging eight-song CD, to both his hometown and its contemporary spirit. The first of a three-part song cycle delving into events and characters in Canadian history – that's the substance of an educational program Ford has taken to Ontario schools – Stars Shone On Toronto pays homage to local figures (famed urban planner Jane Jacobs, environmental activist Tooker Gomberg) whose work isintegral to the preservation of unique aspects of Canadian life, and to key moments in the life of this city ("The Great Fire Of 1904", and the title track, an account of the recent catastrophic blackout). The songs are well crafted, served up in a mostly accoustic folk/world-music setting, and even with their instructional burden, are delightfully entertaining.
Greg Quill, July 3rd, 2004
Review of Canada Needs You, Volume 1 in The Beaver (Canada's History Magazine)
Currents – Living History
"Sir John A. (You're O.K.)" is a lovely affirmation of Canada's first prime minister, but it's also the name of one of twelve songs on Canada Needs You: Volume One. The mastermind behind the Canadian history CD is Mike Ford, a guitar-toting, history-loving singer-songwriter whose claim to fame is as a member of the band Moxy Früvous. After ten years of near-constant touring with the folk-pop-vaudeville band, through which he was able to write and perform songs on almost any imaginable subject, Ford settled on history.
"After Früvous, I wanted to do something that would combine my passions – history, the land, music, and teaching – in a way that would ensure that I'd be home for dinner." So, he created Canada In Song, a series of history song performances of which the CD is a culmination. For the last four years, Ford has performed in schools across south-central Ontario, entertaining students with the wonders of Thanadelthur, D'Arcy McGee, Nova Scotia's Oak Island mystery, and even a voyaguer adventure complete with some rather impolite yet kid-friendly bodily sounds. And while his audience is most often made up of kids in grades 7-10, Ford performs the songsfor adults in nightclubs, universities, and festivals, too.
Ford says his fascination with Canadian history began at a young age. His father, John Ford, to whom the album is dedicated, created Canadian history filmstrips for teachers and their students, and the younger Ford used to rummage around his office, captivated by the words and images he found in there. "Then I spent a lot of my twenties bouncing around the country for various experiences, and my thirties touring the country with the band. It all welled up into this passion I have for the different stories and historical themes of Canada."
These stories and themes are now woven into the melodies and lyrics of Canada Needs You. This pressing title is also the name of track ten – a critique of the immigration posters sent a hundred years ago by the Canadian government to foreign countries, urging people to move to Canada and populate the West. The lyrics quip, "There's an abundance of everything in Western Canada, where it's never ever cold and the streets are paved with gold…"  As we know, things were far from perfect for many who made the trek, and Ford uses the song to discuss how open the Open Door Policy truly was. Ford explains that Canada Needs You is also a call to the children he performs for: "I firmly believe Canada is in great need of these students – their passion, involvement, and activism."
Susan Falk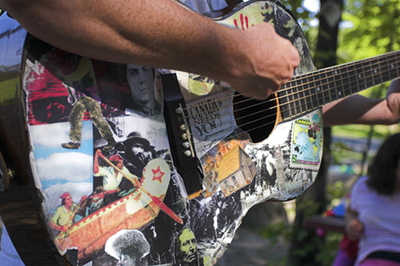 Photo: Andrew Khalil