Sons of '17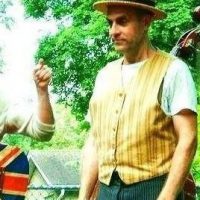 Mike & Murray spent last July in Guelph, Ontario, performing Mike's World War One based musical play "Sons of 17" at the magical historic John McCrae House. The play was originally commissioned by Canada's History Society for performance at the 2014 Governor General's History Awards in Ottawa, with Mike and his pals Sheesham & Lotus. Big thanks to Teilhard Frost (Sheesham) for coming up with the show's name!
The piece will be touring memorial sites in Belgium & France in the spring of 2018, and is available for in-school performances across Ontario.
Sons of '17 is a one-hour musical play that explores emotions, opinions and diversions in small town Ontario during World War One. Featuring period songs and animated dialogue, Sons of '17 invites audiences into a recruitment drive concert rehearsal between Jack Rochon and Eric Goodweather, an unlikely pair meeting up for the first time to prepare a repertoire of songs meant to inspire enlistment. Performing period marching songs, hit parade and local tunes, satirical pieces from the trenches and more than bit about John McCrae and his famous Flanders poem, the rehearsal becomes a form of inquiry into concepts of identity, duty and empathy.
The 50-minute piece is followed by the performance of several related modern-day compositions and a Question & Answer period.