Todmorden Mills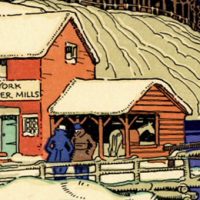 Winter & Spring 2018 saw Mike as Songwriter-in-Residence at Toronto's beautiful and multifaceted Todmorden Mills History Museum.  Thanks to the great support of The Toronto Arts Council, Mike conducted Song Workshops there for School Groups, Public Visitors, wrote a new 'Don Valley' song cycle, and had a huge song celebration concert, with brilliant young songwriters joining in!  ALL THE CREATED SONGS & RELATED RESOURCES GO LIVE HERE SEPT 1st.
FOR NOW, CHECK OUT THESE PROJECT RELATED LINKS:
ln a similar project, this past year, with the support of The Department of Canadian Heritage, Mike conducted The Parkdale 150 Song Project / Chansons d'ici 150.  
Check out parkdale150.ca to hear the kids' songs!
WHAT?
This project involved songwriter/educator Mike Ford working with Intermediate students at three Parkdale (Toronto) schools (Queen Victoria, Parkdale Junior & Middle, and Fern Avenue Public Schools) in the creation of new songs exploring and celebrating local and national stories in time for the 150th anniversary of Canadian Confederation.  It began in October of 2016, and culminated with a public concert in May of 2017, and with the creation of related Teacher's Resource materials.
The project was entirely supported by the Canada150 Fund of The Department of Canadian Heritage / Patrimoine canadien.
HOW?
Workshop days were conducted at each of the three host schools through the Fall months. In these sessions, Mike Ford kicked off the project with interactive introductory concerts of his original Canadian History-themed repertoire, showing examples of different approaches, methods and song styles that can be used as vehicle for artistic inquiry.  These concerts were then followed by song workshops that allowed learners to play with concepts of Brainstorming, Song Structure, Rhyme, Rhythm, and more.  From there, song themes were chosen, and the song writing groups dove in and have begun creating their own original compositions – in English, French, Hungarian, Tibetan and Tamil! In February, the workshops at each of the three schools saw the songs become fleshed-out, edited, rehearsed, recorded, and readied for public performance.
THEMES
Among the topics being explored for the new song creations:
The Halifax Explosion
Restaurants of Parkdale
Push-Pull Immigration Factors
The War of 1812
Nature in High Park
Flying to Canada
Canadian Waters, Clean or Boiled (exploring ideas of water use, from Wellington County to Attawapiskat)
Food & Music: Budapest to Toronto
It's been an honour, and a blast, working with these wonderful Parkdale students – Mike
Parkdale 150 is a song workshop project, conducted by Mike, involving Intermediate students at Parkdale Junior & Senior P.S., Queen Victoria P.S. and Fern Avenue P.S. in Toronto, featuring learner song creation on themes of community, history and heritage, culminating in web-shared recordings and a spring 2017 celebration concert.  Made possible by a grant from the Canada 150 Fund, Canadian Heritage / Patrimoine canadien, the project celebrates, among other things, the pluralinguistic attributes of the Parkdale neighbourhood.
Those interested are invited to follow the coming links on this site to social-media sharings of the student song creations in the coming months.  The project will also produce a legacy of educator resources, for those who wish to facilitate similar initiatives in their own schools.